The Deciding Vote nets a MATCH Series Championship
   Owner William Pape and trainer Edward Graham had a tough call to make after Parx Racing decided Saturday to move the two turf races scheduled for the final round of the Mid-Atlantic Thoroughbred Championships Series (MATCH) on Monday, Oct. 3, to the sloppy main track because of heavy rains from the remnants of Hurricane Ian. Deciding Vote had run twice early in her career on dirt but became a proven stakes competitor on the grass. Their vote was to take a chance in the $100,000 Salvatore DeBunda PTHA President's Cup, and the result landed the 5-year-old Mr Speaker mare the overall MATCH Series championship for 2022 with 38 points.  "This means a lot to Mr. and Mrs. Pape and it means a lot to me," said Graham, who is based at Fair Hill Training Center in Maryland. "We were so close to the series final, and we all said, 'Let's give it a go,' and if she doesn't handle the track tell the jockey to take care of her."  Mychel Sanchez, who won his 1,000th race Oct. 1 at Delaware Park and had many of those victories at Parx, followed the plan. Deciding Vote was ninth early in a 10-horse field in the 1 1/8-mile stakes and saved ground until the final turn. Sanchez guided Deciding Vote to follow the wide path of Tic Tic Tic Boom and jockey Andrew Wolfsont and reeled in the leader late to win by a half-length. The time on the sloppy track was 1:52.67.
   
   Sanchez said he rode Deciding Vote as if it was a turf race—she usually lags early and then makes her move. There was no indication she wasn't handling the track, he said.
"I thought they might scratch her, but (Graham) said they would take a shot," said Sanchez, who had ridden the mare in her previous start. "She gave me a good feeling early in the race, so we just went on with it."It was the second stakes win this year for Deciding Vote, who won the Dahlia Stakes at Laurel Park, first leg of the Filly and Mare Long—Turf division. All five of her races came in the MATCH Series, and Graham said that was by design because he believed Deciding Vote would fit the competition. The mare now has five wins in 16 starts for earnings of $265,800.A division win pays bonus money of $30,000 to the owner and $15,000 to the trainer. The overall championship adds $20,000 for the owner and $10,000 for the trainer.Timory Ridall's Tic Tic Tic Boom, a 4-year-old Hit It a Bomb filly trained by Parx-based Alan Bedard, got the jump on Deciding Vote with her closing move but just fell short in yet another good effort. She finished second in the division with 24 points.  "I'm just so happy the only two horses to run in all five legs of a MATCH Series division ran one-two in this race," Bedard said. "We're happy for them and we're happy for us. It was a wonderful race and I'm thrilled. She'll be 5 years old next year and we want to do the same thing with her—run in the MATCH Series."  Stuart Janney III's In a Hurry, who competed in three MATCH stakes and accumulated 17 points, finished third in her division.The only other horse with a chance at winning the overall 2022 championship was C J I Phoenix Group and No Guts No Glory Farm's Fille d'Esprit, who was claimed by the partners for $10,000 in 2020 and subsequently won eight races—three of them stakes—and also became graded stakes-placed. The 6-year-old Maryland-bred mare Great Notion sat just off the leader, Oxana, for much of the $100,000, 6 1/2-furlong Roamin Rachel Stakes but faded to finish third.   
   Oxana, owned by Tee-N-Jay Farm and trained by Timothy Hills, led all the way under Paco Lopez to win in 1:17.93. It was the first appearance in MATCH competition for the 4-year-old Pennsylvania-bred filly by Uptowncharlybrown.John Robb trainee Fille d'Esprit, with four starts in the Filly and Mare Sprint—Dirt division, is the champion with 32 points. C J I Phoenix Group's Carl Ionnatta, who came to the Mid-Atlantic region for the MATCH finals and the Fasig-Tipton Timonium sale, said he was pleased with the performance by Fille d'Esprit.  "I thought she ran great," he said. "I wasn't paying much attention to the series at first, but when she kept running in it, it became a lot of fun. She didn't win the (overall championship) but she won her division. This horse has changed my life, and I'm thankful for that."  Kaylasaurus, owned by Bush Racing Stable, Liberty House Racing, BlackRidge Stables and George Saufley, finished second in the division with 22 points after three starts. The owners had planned to race the 6-year-old Pennsylvania-bred mare by Munnings in all five division stakes, but an injury was detected the morning of an expected start at Colonial Downs in August and she was later retired.Kaylasaurus, based at Hollywood Casino at Penn National Race Course with trainer Tim Kreiser, won eight of 25 starts for earnings of $350,683. She was claimed by Bush Racing for $25,000 last November and in her first start for the new connections won a $100,000 stakes at Laurel in December; when the 2022 MATCH schedule was announced they decided the mare's schedule would be based on the series.  "We really loved the MATCH Series and wished we could have continued, but her health was our number one priority," said David Bushey, who manages Bush Racing. "We had her checked out by our veterinarian and it was recommended we retire her. We had only planned to run her through the MATCH Series anyway and then sell her. She is happy and healthy at Taylor Made Farm in Kentucky and will sell at the Keeneland November sale, but we'll be looking for another Kaylasaurus for the MATCH Series."  St. Omer's Farm and Christopher Feifarek's Beren entered the $100,000, 6 1/2-furlong Liberty Bell Stakes as the leader in the 3-Year-Olds and Up Sprint—Division, and he needed the start to be eligible for MATCH Series bonus money. The 4-year-old Pennsylvania-bred colt by Weigelia checked in fourth, but won the division with 20 points.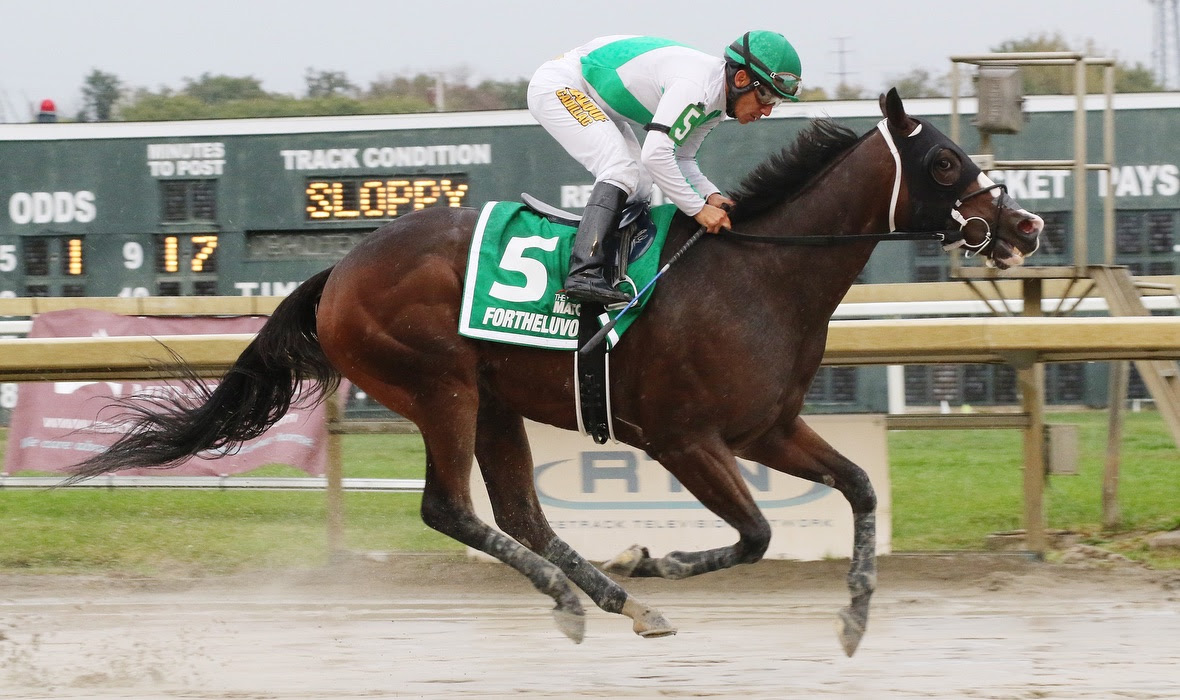 Another Pennsylvania-bred, Smart Angle's Fortheluvofbourbon, went gate to wire in 1:16.88 with Lopez riding to win for the 11th time in 22 starts. The 5-year-old Bourbon Courage gelding was claimed for $50,000 at Churchill Downs in May 2020 has since the claim has won 10 races, four of them stakes. He now has won five consecutive races and his earnings stand at $518,120.  "We claimed him for $50,000 and he looked like a Pennsylvania-bred I thought could win some stakes," Parx-based trainer Michael Pino said. "He has matured nicely. I talked to Paco and said if he wants to track the two inside horses that's fine, but if he breaks sharply let him do what he wants."  Butch Reid, who trains Beren, a winner of eight of 20 starts, said the MATCH Series "has been really stimulating" and offered his colt properly spaced-out races. Pocket 3's Racing's Threes Over Deuces finished second in the division with 10 points after three starts.
J. Tyler Servis, another Parx-based trainer, had the only main-track-only horse entered in the $100,000 off-the-turf Bucks County Stakes at 1 1/8 miles, and the 5-year-old Wicked Strong gelding Shooger Ray Too came away with the win with Abner Adorno aboard. He rated off of a contested pace and drew away to win by 5 3/4 lengths over Tax, who had last raced in the Grade I Jockey Club Gold Cup. Owned by Vintage Thoroughbreds, Shooger Ray Too was supplemented to the Bucks County. He was off the board in his only turf effort but had performed well on wet dirt tracks. In his last start, he finished second in a 1 1/8-mile allowance race on the dirt at Saratoga Race Course."We had to find the right spot for him, and this was it," Servis said. "Abner did a great job by saving ground (behind the speed duel)."The 3-Year-Olds and Up Long—Turf division was won by Eons, owned by Mark Grier and trained by Arnaud Delacour. Eons collected 23 points in three series starts and was entered in the Bucks County but scratched because of the surface switch. Delacour has won six MATCH stakes since the series returned in 2018, but he and his owners never won a divisional championship in part because they had the stock for graded stakes. One of them, Lael Stables' Chalon, won MATCH stakes in 2019 and 2018, the year she fell a head short of winning the Grade I Breeders' Filly and Mare Sprint. This year, Eons, a 6-year-old Giant's Causeway horse, fit the bill for the MATCH Series and gave Delacour—and Grier—their first divisional championship. Eons won two of three starts, one on a disqualification, and would have raced a fourth time.
"If they had raced on the turf and it had been soft, he's OK on soft turf, so we would have taken a shot (at the overall championship)," said Delacour, who is based at Fair Hill. "This is really cool, though. I think it's a great series—it's very motivating. I think it's a great thing for the Mid-Atlantic region."Beacon Hill placed second in the division with 10 points after three starts. Beacon Hill opted to run Oct. 1 in the off-the-turf $100,000 Japan Cup at Laurel Park and finished second, only a neck behind Armando R.The 2022 MATCH Series bonus money distribution offers up to $92,500 per division and $30,000 for the overall champion by points. For each division, first place pays $30,000 to the owner and $15,000 to the trainer; for second, $20,000/$10,000; and for third, $10,000/$7,500. For the overall champion, the owner receives an additional $20,000 and the trainer $10,000.The Maryland Horse Breeders Association, Pennsylvania Horse Breeders Association and Virginia Thoroughbred Association each agreed to offer $5,000 bonuses to breeders based on the performances of horses in the series for a potential total of $30,000. Pennsylvania and Virginia will recognize the top male and female state-bred runners by overall points earned, while Maryland will award bonuses to the top Maryland-bred and Maryland-sired runners by overall points earned.The breeders of Fille d'Esprit (Maryland) and Kaylasaurus and Beren (Pennsylvania) qualify for the bonuses.  The MATCH Series originally debuted in 1997 and ran for five years. It returned with great success in 2018 and was held in 2019 and 2021. The innovative regional racing series—the only one of its kind in horse racing—combines rich stakes and bonuses for participating owners and trainers who compete over a five- to seven-month span. Horses competing in MATCH earn points based on participation and order of finish in each series race, and the leading point-earners in each of the series divisions, as well as the owner and trainer of the overall points leader, win lucrative bonuses.
  For further information, contact Alan Foreman at 410-336-0525; David Richardson at 410-984-2770; or Tom LaMarra at 859-492-8365.
2022 Schedule & Rules